Member info
Full information About Member,
contact

Austria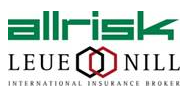 Allrisk Leue & Nill Versicherungsmakler GmbH
Registration number of the national controlling authority: 990002872F06/07B
Allrisk Leue & Nill Versicherungsmakler GmbH
Lassallestrasse 7a/Unit5/Top5
1020 Vienna
Austria
Tel:+43 1 505 55 22
FAX: +43 1 504 37 49
E-Mail: versicherungsmakler@allrisk-leue.at
Web: www.allrisk-leue.at
About Us:
Allrisk Leue & Nill located in Vienna is one of the largest insurance brokers in Austria. The portfolio covers the entire services of the insurance industry for industrial and commercial clients as well as private clientele.
Allrisk Leue & Nill provides own experts to assist their clients in insurance related risk management and develops individual solutions after a detailed assessment of the needs. With 20 experienced employees Allrisk Leue & Nill assists clients in managing their insurance needs. The International Division provides specific services for all International clients.
History:
The company was founded in 1966 and is fully family owned. In order to cope with globalisation and to attend our clients internationally we opted 2008 for the participation as shareholder by Leue & Nill, one of Germany's top 10 brokers, family owned since 1864.
Rudolf Prettenthaler
Principal
+43-1-505 55 22 37
+43-699 131 88 198
–
rudolf.prettenthaler@allrisk-leue.at
Angela Beroun
junior account executive and claims manager
+43-1-505 55 22 27
–
–
angela.beroun@allrisk-leue.at
Klara Raffelstetter
head of international division
+43-1-505 55 22 17
–
–
klara.raffelstetter@allrisk-leue.at
telephone mobile fax e-mail